Structured Cabling
Whether you are looking to upgrade an existing infrastructure or design a new one, our staff will be able to create a versatile, expandable, cost-effective system to fit your company's growing needs. Our qualified team will create a schematic of your current network infrastructure, as well as create a proposed solution so that you can see all the benefits available to make your company's network more safe and secure.

A structured cabling system provides a platform upon which an overall information system strategy is built. We design and build flexible cabling infrastructures - structured cabling systems that support multiple voice, data, video and multimedia systems regardless of their manufacturer. We are a "one stop shop" for all your organization network infrastructure needs. We will help you evaluate, design and install the optimum integrated system for your company.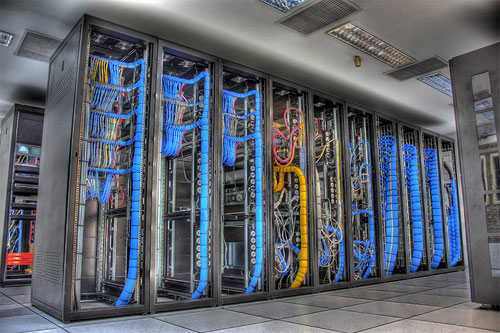 The Importance of Structured Cabling
The world has changed. The way we work, the way we shop and entertain, the way we communicate, travel - the way we live - are all drastically different than just a few short years ago. Technology is better than it has even been. Communication is faster and expectations have never been higher. Today, information for virtually everything is at our fingertips and tomorrow's technology is limited only by our imagination.
In this ever more demanding world of increased expectations and requirements, the pace of technology has not slowed. Our appetite for improving our lives and our businesses continues to drive forward. Now, more than ever, businesses need to focus on the IT basics - the supporting infrastructure that will bear the load and distribute your vital business information globally.
Benefits of Structured Cabling
Every year, our world becomes more connected through advancements in technology. Businesses are always looking for the best solutions for their telecommunications systems, which need to be effective, yet low - maintenance. Traditional point-to-point systems not only create a jungle of wiring, but they also can't carry ever-increasing data at high rates. That's where structured cabling systems come in. They are the foundation of your company's communications infrastructure and their benefits cannot be ignored. A structured cabling system ensures all of your communications needs - for telephone networks, video surveillance, etc. - are met efficiently, streamlining your entire IT network in a way that the traditional point-to-point system simply cannot do. So what are the major benefits of structured cabling systems?
Below we explore in depth the benefits of structured network cabling and why your business could benefit from our specialist network and cabling service.
1. Future Proof Investment
By far one of the most significant benefits of a structured cabling system is the high bandwidth, which makes it a reliable infrastructure for supporting business growth. In today's competitive business world, having adaptable IT that is scalable and can respond quickly to industry changes is vital. In order to retain existing customers and continuously acquire new ones, businesses need a data centre that supports the quick and easy development and deployment of new services. With structured cabling, you can rest assured your network infrastructure won't become outdated and will support all emerging applications as your business grows.
2. Simplicity
There is a high level of simplicity and straightforwardness that comes with an organised cabling system. In a typical office environment, several different devices and IT equipment are being used at the same time, so running everything off one single system eliminates the complexity of having multiple wiring infrastructures in place. For example, if a problem occurs, it is far easier to identify the issue and solve it with structured network cabling. This means far less time and money lost in the long-term.
3. Cost Effective
Structured data cabling is a cost-effective solution to the smooth running of your business. The scalable and highly flexible network will provide a continuous flow of information and will be able to cope with the high demands placed on it. This in turn will boost productivity and drive business success. One simple cabling system also reduces power and maintenance costs, and eliminates the time and money spent on locating and rectifying any issues.
4. Enhanced Flexibility
A structured cabling system provides an enhanced level of flexibility - helping to improve performance and drive business growth. This is because it can quickly and easily accommodate moves, adds and changes, which dramatically reduces installation time and ensures optimum adaptability to any network infrastructure changes. The flexibility also makes the system easy to take apart and move to a new office location.
5. Reduced Risk of Downtime
There is a high risk of human error and mistakes being made with multiple, un-organised cabling structures, which can cause workflow disruptions and network downtime. As aforementioned, a well-planned cabling system also means easier troubleshooting, so it's easier to identify and rectify faults quickly.