Why Intel NUC?
Who doesn't love a good desktop setup? While laptops and tablets are becoming increasingly popular, many still can't perform as well as a solid desktop. The problem, however, is that desktops traditionally take up a lot of valuable space, and can be difficult to justify in small offices.

As a result, the race has begun to create computers that take up as little room as possible, like the Android stick computer, while still maintaining power comparable or even sometimes greater than their larger counterparts. Intel's Next Unit of Computing (NUC) is one such system.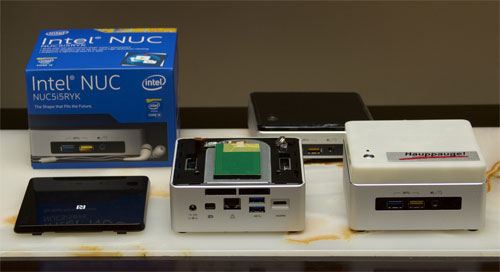 NUC can best be described as a barebone, small form factor PC. They're pretty small, about the size of an external hard drive, although some are even smaller. Despite their size, they still pack as much power as a regular desktop. These are commonly used as home theater PCs, which combine the capabilities of PCs with home media centers, although they are also commonly used for programming and even gaming when hooked up to an HD television.
Apart for HTPC we can use NUC as an All in One Home PC for daily life computing as well as NVR for home network camera. Also with the help of NUC we can built Digital Signage.
Set up involves installing a hard drive, memory, networking interfaces, plugging in a keyboard, mouse and display, and can generally be done in under fifteen minutes. NUC unit can do pretty much anything that a standard desktop is capable of. However, it does not have an optical drive and tends to not have a whole lot of space on the hard drive. A unit will also typically have four USB 3.0 ports including one Fast Charging Port, One VGA & One HDMI port in CDC & PDCNUC / One Mini HDMI & One Display port in Core i3, Core i5 & Core i7 NUC, an audio jack, and some sort of antenna for Bluetooth or WiFi connections.
NUCs have great reputations for running quietly without overheating, which is something that many laptop users unfortunately have to deal with. Certain models do have fans, although there are definitely fanless varieties, which surprisingly do not tend to have overheating issues.
Being a very small, very portable computing system makes a NUC system perfect for on-the-go users. Not only that, but when you set up a NUC system, you're literally building it yourself. Unlike the Mac Mini, which comes pre-assembled with everything needed to run properly, NUC only comes with the case, motherboard, and the CPU, Wireless Bluetooth, Power Adapter & VESA Bracket. Only need to be purchase Memory & HDD separately and then installed by the user. While that may seem like a lot of work with not a lot of benefit, this actually allows you to customize it as you please.
NUC systems really shine when used as home theater PCs (HTPC). They are capable of storing and playing high-quality media and have a reputation for running smoothly with HD televisions. They can also be attached to HD TVs and used for relatively lag-free gaming experiences.
Something cool about many NUC units is that they are small enough to be attached to the back of some televisions, which frees up space that would otherwise be taken up by the unit. For people who don't have a lot of space to spare, or those who choose to live minimalist lifestyles, the convenience of these systems cannot be denied.
NUC units can be found anywhere that computers can be purchased. They can be purchased directly from us.
The units themselves aren't incredibly expensive, but the price is comparable to a traditional desktop.
This i5 unit allows for 16GB maximum of SODIMM memory, an antenna for WiFi and Bluetooth, a mount bracket if the user wanted to mount the unit to the back of a television or some other sort of display, with Intel HD graphics 5000 and Intel Turbo Boost, and is made to be compatible with Linux and Windows. This similar i3 unit has Intel HD graphics 4400, 4 USB 3.0 ports, has extra space for a 2.5" HDD or SSD drive.
At the end, a NUC is exactly a budget computer and having endless opportunities. The average user who may not necessarily be interested in assembled desktop has to be better to purchasing a Intel NUC.